Spell for Success at Work
This is a fast acting spell for success at work. When the moon is in waxing phase, take a green taper candle scratch onto it with a pin the words "I am allowed to be wealthy." This self affirmation is a statement to the universe and your subconscious mind that you are allowed to have wealth. A lot of people hold a lot of resistance to wealth. They believe that being wealthy means being selfish or greedy or non spiritual when this simply is not the case.
Anoint the candle in lavender oil and light the candle. Let it eventually burn all the way down. You can buy authentic wiccan oils from my etsy shop.
Holding a quartz (also available in my shop:) , look into the candle flame and say three times:
I call to me the success that is mine. It flows to me freely and perfectly, fully. I call to me now all the wealth held in store for me. The doors are now opened – the abundance pours forth. I call to me now my prosperity, long missed. The channels are open – this flows to me now. So Mote it Be.
To dissolve conditions of real hardship, say this 15 times, as that is a number that dissolves difficult conditions. I will be posting more articles on the magic of numbers soon.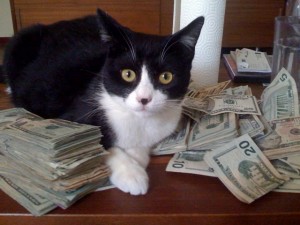 Mix together in a ceramic bowl at least four of the following herbs: John the Conqueror, Irish moss, knotweed, orpine, honeysuckle, luckyhand root, mandrake, mountain laurel, nutmeg, opium poppy, pearl trefoil, privet, white rose, sea holly, sesame and aloe vera. Would you guys be interested in buying the herbs from my garden? Let me know in the comment section what you would like to see on the website, youtube and other social media accounts.
To your herbs, add 7 drops of lavender oil, 7 drops of ginseng and 3 drops of rosemary oil. Mix these together and put into a green flannel mojo bag.
Anoint the bag with more lavender oil. Wear or carry the bag with you, touching it whenever you begin to doubt that you can be wealthy and live your ideal life.
This spell for success at work is amazing seems to work instantly! Have you tried this spell? Leave your success story down below!