Wiccan Tools: Wiccan Cleansing & Purification
?This is a basic article and Wiccan cleansing and purification. It is necessary for some to do a purification of the ritual area. Ritual spaces outside rarely need to be purified. However, those made at home should be purified if the spell calls for it, or if it is an important part of you spell casting preparation of ritual. I do not do a cleansing for all of my spells and magickal workings. I think you will get a good understanding as to when it might be appropriate, etc.
A lot of people feel that most homes, ritual places, and places where you might do you spell castings or magickal workings need a Wiccan cleansing or purification due to the accumulation of 'astral junk' or residual energies from others, other magickal castings, negative energies, etc. It is easy to understand that these energies can feel disruptive and incoherent to your current ritual. Because of these disruptive energies the area has a Wicca cleansing ritual done before the actual ritual work.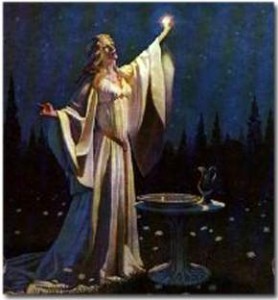 If you are doing a ritual or wiccan cleansing at your home, it is important to have concentration and peace.  If you are alone, you might want to close the doors, shut the curtains, turn off the phone ringers, etc- so you may have total privacy for your ritual. You should not be interrupted during the Wiccan cleansing because it will disturb your energy levels and your concentration. If you live with someone or if someone is home, then politely ask them not to interrupt you, this is why many operate at night under the cover of darkness while the world is sleeping. Or early in the AM for maximum privacy.
Wiccan Cleansing
Here are the basics steps of a Wiccan cleansing ritual:
Clear all boxes, toys, trinkets, school books and things unnecessary to the ritual from the area.Use your broom to sweep the area thoroughly. Sweep the place where you do you rituals. The broom is one of the oldest tools to clean and purify a area.
As you sweep with the broom send your energies and intentions of clearing the room from these energies. Imagine the broom clearing away all negative thoughts, energies, and mentalities from the ritual area.
?NOTE: Another way to do a Wicca cleansing is to spread some salt, alone or mixed with herb such as thyme, rosemary, sage, or opal. Some also use salt water. The action of salt is to disperse these negative energies.
You could also just burn a cleansing grass or cleaning herbal mix for example, myrrh, frankincense, sage, thyme or rosemary. Herbs can be used alone or in combination. "Spray" the ritual space with smoke from the burning incense and visualize banishing negativity.
Outdoor rituals require minimal cleaning. Most of the natural environment is much less physically contaminated our homes and other buildings. You need just a light sweep with magic (in this case, to actually remove the fallen leaves and pebbles in addition to the negativity), supported by your intention. These are some basic ways to do a purification along with some basic ways to do a wiccan cleansing.