Wiccan Blue Moon Esbats
Have you ever seen two full moons in one? This is an extremely rare.  For the followers of the Wiccan religion the rare phenomenon of having two full moons appear twice withing one month of a particular year is called a 'Blue Moon'. The phrase 'once in a blue moon' comes from this rare occurrence.  This moon is so powerful and can help you accomplish a great task. You may be interested in reading my 'Once in a Blue Moon Wish Spell'.It is our belief that these moons can be used as a very powerful tool for the manipulation of energy for manifesting your desires. This is a great moon, primarily used for setting goals for manifesting your future desires and quality of life. The moons aren't static, meaning you have plenty of time to accomplish your goals before the next occurrence of the Blue Moon.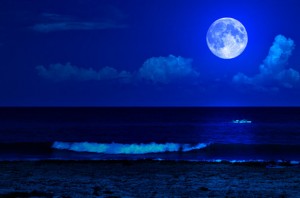 These are the next 4 Blue Moon Esbats:
July 31, 2015
January 31, 2018
March 31, 2018
October 31, 2020
The last blue moon was in 2012. I personal made goals for my finances and health. I made my own ritual on the night of the blue moon. I cleanse myself with an unpublished personal purification spell and made a list of the things I wanted to accomplish. Because my Blue Moon spell is a personal one, feel free to use some of the information above to create a new personalize ritual.
Some people ask me how I keep track of all the important dates and moons. I have a few books of shadows. One of my books is dedicated solely to the calendar of wiccan events and dates. I will look in my book in the beginning of each month and transfer the dates into my personal date book. This gives me time to look at the moon and moon phases of the month and decide what rituals or spells I would like to do and prepare for.
Let us know in the comments how you keep track of the personal dates of the esbats, sabbaths and other wiccan calendar.