Trick Spells: Spell to Fly
This is another one of the greats spells sent in to the website. The writer suggests you do this spell on a Sunday during the waxing moon. I love levitation spells. One of the first spells most of us have tried would be the light as a feather stiff as a board spell, this seems to be a variation of that spell.
What You'll Need:
5 white candles
white dove feather
will power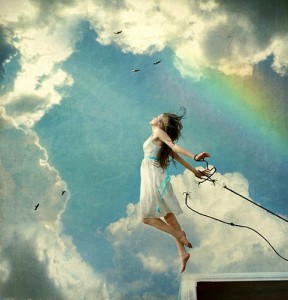 After a ritual bath dress in your robe and cast your circle. Place the white candles in a circle around you and and light each candle clockwise. Sit or lie in the circle and see yourself flying, while holding the feather. Repeat this variation of a well known classic chant:
"Light as a feather, not stiff as board, I am now flying"
You should feel yourself levitate as you chant this silently to yourself. This spell won't give you the ability to levitate on command or fly straight in the air after school but your should feel the levitation sensation. Your will power and concentration will determine how high you will be able to levitate.
Meditation and concentrate are key elements to making any type of magick grow. Try to meditate daily to increase your focus, concentrate and empower your magick. These things aren't learn overnight so don't be to discouraged if you try a spell and it doesn't work!
Have you tried this spell to fly? Have any tips and information that might be useful to others? Then please share all your thoughts, ideas and suggestions in the comment section below.
Thank you for visiting the website. You can send in spells by using the contact buttons on this page. If you like this spell to fly please like it, share it and send it using the share buttons below. This helps my website grow and also encourages me to post more spells 🙂