Spell for Increasing Spiritual Medium Abilities
Have any questions about this post? Read the forum discussion here. (After five posts you'll receive an awesome gift!)
When the moon is waxing or full, cast rune stones for indication of what lies ahead for you. Cast the stones only once. Holding the stone in your hand, consult a reliable source for the meaning of the rune if it is unknown to you. Then return the stones to their bag and place them on the altar.
Now go to your special place in nature, and on a still night, sit below a tree that you have chosen specially for magickal purposes. Sit where you can see the moon through the tree's branches.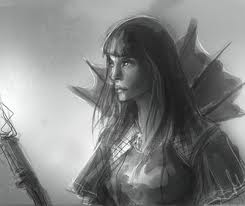 Ask for the assistance and protection of your Benevolent Spirit Guardians and Guides during this and every divination.
$10 Off Psychic Reading
In a ceramic bowl, mix wood sorrel and wild thyme together. Burn this mixture as an offering to the strong and blessed spirits and elemental(s)watching over you. Thank them for their light and protection as you call upon their Insight.
Stare into the smoke from the incense – cup your hand round it if it dissipates into the air too quickly – and say:
I call upon Wisdom; I call upon Light
I call to my loved ones and ancestors long past
Speak to me here by word or by sign
Connect us clearly; let me hear your wisdom at last.

So Mote it Be.
On another night when the moon is waxing or full, ask at least one other to join you in contacting the spirits of departed loved ones. In a ceramic bowl, grind some dried chicory root and cinquefoil and mix in a few cloves. Burn this as an incense offering to the world of spirits when asking them to come to you to answer your questions. Hold hands to consolidate your energies and ask that the spirits come forth with wisdom and guidance. Use a Ouija board with care, asking for protection from all negatives energies first. Use only if you have a man and a woman present, as it should be used with both male and female energies.
Before going to bed that night, mix together the following herbs: mugwort, cinnamon, mandrake, thyme and anise seeds. Put these into a purple or blue flannel mojo bag with the sacred rune stone SIGHEL. Sew the bag shut and keep it under your pillow at night to draw in prophetic dreams from a spirit guardian or a departed loved one who may be trying to give you a message. Womens Jersey