Ostara
What is Ostara all about?
Throughout the dark winter months, nature holds back. It's a time when the abundance of nature is not available, and our ancestors worked hard to survive it. When spring arrives, the world wakes up and the cycle of life begins anew with the promise of prosperity. The coming of spring is marked by the vernal equinox, when the Earth's axis tilts neither toward nor away from the sun. The days will become longer, and the land becomes fertile once more.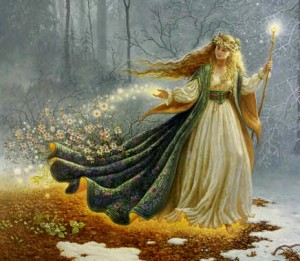 This is an important time of year because it reminds us that we are alive. It is relief from the dark uncertainty of winter and the affirmation of new growth. Ostara is a celebration of all these things – the coming of spring, life, fertility, revitalization. The God and the Goddess are joined so that the Goddess may conceive.
There are many ways to celebrate Ostara, but many traditions developed from the old agricultural way of life in Europe. At this time of year, animals come out of hibernation, and leafy vegetables begin to grow. People did not need to rely on their winter stores, so they might serve the best of the cured meats and root vegetables that they had preserved for the winter. Many people continue this tradition by serving ham, eggs, fruit, and honey cakes. Some people fast or perform a spring cleaning because they've been cooped up all winter.
This is also a time to focus on new beginnings in your life. Warm weather and sunlight banish the "winter blues" and many people become more active. It's a good time to get in shape, plant a garden, and perform magick. Our own selves reflect the changes that the Earth is going through, and we can access that vigor, that lust for life. We should also take the time to reflect on the wonder and abundance that is around us and to make note of the many overlooked things that make our lives easier.
Ostara is the beginning of spring and relief from winter. It's the fertile time of year and best for planting seeds – be they flowers, vegetables, or your intentions. Celebrate life and be thankful for the gifts of the Earth.