Once in a Blue Moon Wish Spell
This is a great spell it is intended for the Blue Moon, but you may do this spell on any full moon with similar results.
This spell is to be done on the night of the Blue Moon. The next Blue Moons dates are : August 31 2012 – July 31 2015 – January 31 2018 – March 31 2018 (two chances in 2018!). The Blue Moon is a time for goal setting for the Wiccan. Because the times in between the Blue Moons vary giving you plenty of time to complete your goals.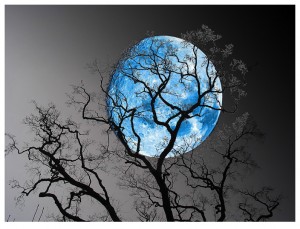 What You'll Need:
a blue pillar candle
myrrh oil
black marker
Anoint your candle with the myrrh oil. Bless and consecrate your candle. Write your name on the candle and write your wish on your candle. You may need to wait until the oil dries before writing on the candle.
Take the candle in your power hand. See yourself filling with white light until it overflows surrounding you with white light. See the white light gathering in your hand and flowing into your candle.Light your candle and make your wish.  Spend time mediating on the outcome. Let the candle burn out.
Wish spells are probably the second most popular type of white magick spells. This really speaks to the hearts and minds of people. We all want love. We all want to fulfill our dreams. Wish magick may be deemed wishful thinking by some, and for me its not offensive! Our thoughts not only become things but they dictate they way we see life. Holding to the concept of out thoughts become things, this wish spell will require some pretty intense thought. Wish spells have been cast through the centuries, whether tossing a silver coin into your wishing well, making you own daily wishing well, wishing on a star, breaking a 'wish bone' or blowing out your birthday candles, we all have used our thought energies to make a wish. Have you ever had a wish come true?
Leave all questions, comments, thoughts, suggestions, rants, raves and all others in the comment section below. I would love it you would share your wish success stories to encourage others. Thank you so much for visiting Just Wicca. You are the reason I add 5 spells a day to the website. It is because of you that I have met so many awesome people. Its all for you. If I have helped you in any way then I am happy! It fills my heart with happiness to write about the thing I love the most and share it with people who are just like me. Thank you. I am very grateful to you. 🙂
Get the Ability to Create Your Own Destiny and Get What You Want Instantly! I'm talking about the Power to Create or Destroy What Ever You Want to… As You See Fit! Develop real magick power.