True Love Spell
Have any questions about this post? Read the forum discussion here
. (After five posts you'll receive an awesome gift!)
Looking for a Love Psychic? True love spells can be powerful ways to attract a true love to you. True love spells work and are a great way to find someone who might be perfect for you at the time.  True love spells have their flaws, but overall they are effective ways to find a true love using magick.  I included a free true love spell in this post, and please make sure to leave me a comment telling me how it has worked for you. Remember to signup for the newsletter to receive free spells, magick lessons, and prizes from JustWicca.com. This spell is a simple one, but for a more power red magick love spell
but a top witch click that link.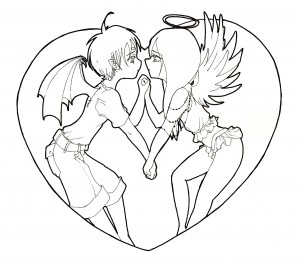 True love spells are not perfect and sometimes you may not always get what you want. You could ask the Love Psychic or attempt to to the spell on you own. People ask me why are spell outcomes so uncertain? Well there could be a number of reasons you attract a true love using a spell, but in reality this person isn't perfect for you. One reason you may attract love with a love spell but this person ends up not being your true love can be mindset. Mindset and your mental vibrations have a lot to do with the effectiveness of your love spell.  So if you just want a impressive guy, someone really attractive, you may get the attractive guy but will you be completely compatible? Probably not if when doing the true love spell you only focused on the superficial, you might just out grow as soon as you get him or her.
Another reason why doing a true love spell won't work how you planed may simply be you outgrow that person, or outgrow what you thought you wanted. Say I did a true love spell when I was 12 and got the perfect guys for me then, more than likely the things I want as I grow older and mature might not say the same. Since your spells, especially true love spells, or find a true love spells, are effective by my mental state and my perceived notions of what I want are surely to change over time. In this post I also included a great true love spell for you guys to use. Need a Love Psychic? I have a prediction for you….be careful what you wish for…
True Love Spell
Three Fridays before the full moon Friday, mix lavender, rose petals, and salt. Make a fire, and throw the mixture in the flame while chanting these words:
"Lovers lane and true heart speaks;
Bring to me the lover I seek;

Let them see their; love shall rise;
United our flame; with Lovers eyes"
Repeat 3x, then write the lovers name on a piece of white paper. (Or if not a particular person, but you are hoping to find love, alter slightly by drawing a your ideal mates body and think heavily on his personality, looks and traits). Throw the paper in the flame, and meditate on the person.
On the Friday of the full moon, do the spell one more time, and place the ash in a satchel with rose petals, wear the satchel until you meet your love, which should happen within a few days. Continue to mediate every Friday on your love until they arrive. So what did your Love Psychic tell you?
Buy Charms and More!