Spell to Get the Job You Want
This Get a job spell with this job spell submitted by Angik Magick. This spell to get the job is simple easy and effective. Job spells are really more practical than money spells, and although sometimes it is better to write your own wiccan job spell, feel free to use the one below. I work at home doing witchcraft and writing about it.
This get a job spell is very simple and very effective. Sometimes the simpler the magick spell the more effective the Wicca magick is. I am a big believer of less is more and magickal spells don't have to be elaborate rituals done for show.
Get a Job Spell
Get a Job Spell
Take a little extra something with you when looking for a new job.
Dress a green candle with essential oil of rosemary, and place it in a holder on your altar.
Light the candle.
Now, place your hands down on the altar on either side of the candle and gaze into the flame.
Picture yourself getting an interview, being made a job offer, and even getting a first paycheck.
Tell yourself that you are worthy of employment, and that you are getting a job you will enjoy and that will meet your financial needs.
Get it all firmly planted in your mind, and believe it to be true.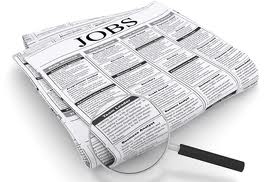 Let the candle burn for a half hour, then snuff the candle out. Or you can blow the candle out, if you blow the candle out imagine the smoke rising from the candle carrying your will out into the universe, creating and manifesting you desires.
Burn it on consecutive nights until it is no more.
Use this wiccan job spell to get the job you want! Green candles are wonderful for job spells, luck spells, money spells, and things dealing with prosperity. I always use a green candle when doing magickal workings like this, although I sometimes use gold and white candles as well. To make this spell your own or carry some of the magick with you take some of the wax from the candle with you in a little pouch.
Have you ever tried a spell to get that job you wanted? I tried plenty of money spells some working almost immediately and others taking sometime. My goal is to earn enough money to travel this year and to build a big website where you guys can get real information for free. Leave comments, tips and information for others to read below. Try this get a job spell and let me know how it works for you by leaving a comment below.
This spell is perfect for the new year because you can change your whole life by simply changing your money situation. This was the first spell submitted to the website and I thank Angik for such a lovely contribution. Thank you so much for visiting the website please take the time to like the post and share it with your friends.
You can submit your own spells via email. JW@JustWicca.com or you can make your own online book of shadows on our witchcraft message board. Sign up for the board and get instant access to even more spells and information.
16 Responses to "Spell to Get the Job You Want"
Please sign up for the forum, the newsletter, add me on Facebook, like JustWicca on Facebook, or follow me on twitter and receive a yarn bracelet handmade by me and blessed with your choice of oil. Just message me with your username and details!
If you write spells, articles, reviews, or anything else on magick, Wicca, witchcraft and other Pagan topics then send your ORIGINAL, 500 word article to jw@justwicca.com and receive a candle set!
* Love Spells * Money Spells * Wish Spells * Psychic Spells * Love Spell Success Stories * Forum *