This spell was submitted by anon. I hope this will be of some help. Read the original posting here.
Anon writes:
There is a spell I would never have looked for until it was useful and when I needed it I wasn't sure it was out there. I found it after the fact, but I think all witches in this day and age should be in possession of it because unfortunately, in our day and age, when divorce rates are high and good partners who will be true are scarce, it is more and more often that as witches, we marry into partnerships and sacred bonds more often than others and with more depth of feeling.
SPELL TO QUIET MARRIAGE BINDING
****CAUTION THIS IS A SPELL TO QUIET YOUR BONDING. IT IS FOR TIME OF GREAT STRIFE AND WILL POSSIBLY SEVER YOUR PSYCHIC CONNECTION TO A PARTNER FOR WEEKS OR YEARS DEPENDING ON THE CAPACITY OF YOUR CIRCLE AND THE EFFECTED's TRUE FEELINGS. PROCEED WITH EXTREME CARE!!!!*****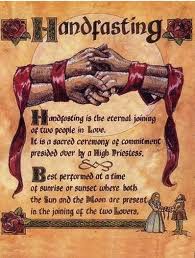 Circle gathers and calls the corners. Three candles lit throughout.
N: Thus is for snow and lack of memory
S: Thus is for dust and death of feeling
E: Thus is for sweet heather and sweet silence
W: Thus is for the mother, and her embrace
(circle chants)
we who are, and us who have been
untruth and betrayal weaves aft and weaves in
kiss and a circle with light will abound
(woman chants)
if sisters beside me can quiet the sound
I will not hear it! (woman)
I will not hear it (circle)
repeatx3
(circle)
loveliness beauty and light
and the moon dripping cool on the shoulders
(C) take our shoulders
(w) I take your shoulders
N: lights candle
(c) pass your burden
(w) I pass my burden
S: lights candle
(c) grant us passage
(w) I grant you passage
e: lights candle
(w) take my sorrow
(c) we take your sorrow
*no candle for west, mother is already present
(w) I hear no more until i wake I hear no more until I wake…..