Wicca Symbols
All About Wicca Symbols
Wicca symbols are an interesting way to keep your spells and other Wiccan related materials private. Like the Wiccan alphabet, these symbols of Wicca can be used to write spells, wear on your clothes and use in charms or magickal workings. You can read more about magick runes and the wiccan alphabet for more detailed ways to make use symbols, Wicca is an individual religion and you should look for guidance from your spirit guide if you need a better understanding of the Wicca pagan symbols. These runes/ Wicca symbols speak to your subconscious, you will find these symbols of Wicca very easy to understand and utilize.
WICCA SYMBOLS – HOW TO USE WICCAN RUNES
You can use these symbols of Wicca as a statement. You can place the symbol of something on your page, clothes etc to represent your statement. Below are around 75 wiccan symbols  for your use and perusal. Take the time to understand and learn these very important and more commonly used Wicca symbols. You can also put these Wicca pagan symbols on your spells candles, runescripts and more to further state your magickal intention.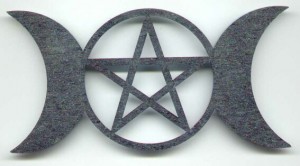 Wiccans of all backgrounds and paths use the pagan symbols for rituals, spells and everyday journal writing. Learn these Wiccan symbols is especially nifty for those of you who are younger and wouldn't want your parents to pick up your book of shadows and discover your path without you telling them. While each symbols has a basic meaning, it may have a more detailed meaning depending on your path and personal view on the Wicca symbols. You can find a lot of useful information online, so if this doesn't appeal to your path get out there and find your way!
These wiccan symbols, the wiccan alphabet, and magick runes are something I use almost daily. It really help me define the type of witch I am and it continues to help define my path and intention with every magickal working. I always stress that you should get a temporary tattoo BEFORE you permanently tattoo the Wicca/rune symbol permanently. This is because the symbols hold power, energy and adversely affect your mood and energies. So feel free to learn more about the runes below, and leave some rune spells of your own in the comment box.
Here is some more information on Pagan Symbols.
Please sign up for the forum, the newsletter, add me on Facebook, like JustWicca on Facebook, or follow me on twitter and receive a yarn bracelet handmade by me and blessed with your choice of oil. Just message me with your username and details!
If you write spells, articles, reviews, or anything else on magick, Wicca, witchcraft and other Pagan topics then send your ORIGINAL, 500 word article to jw@justwicca.com and receive a candle set!
* Love Spells * Money Spells * Wish Spells * Psychic Spells * Love Spell Success Stories * Forum *